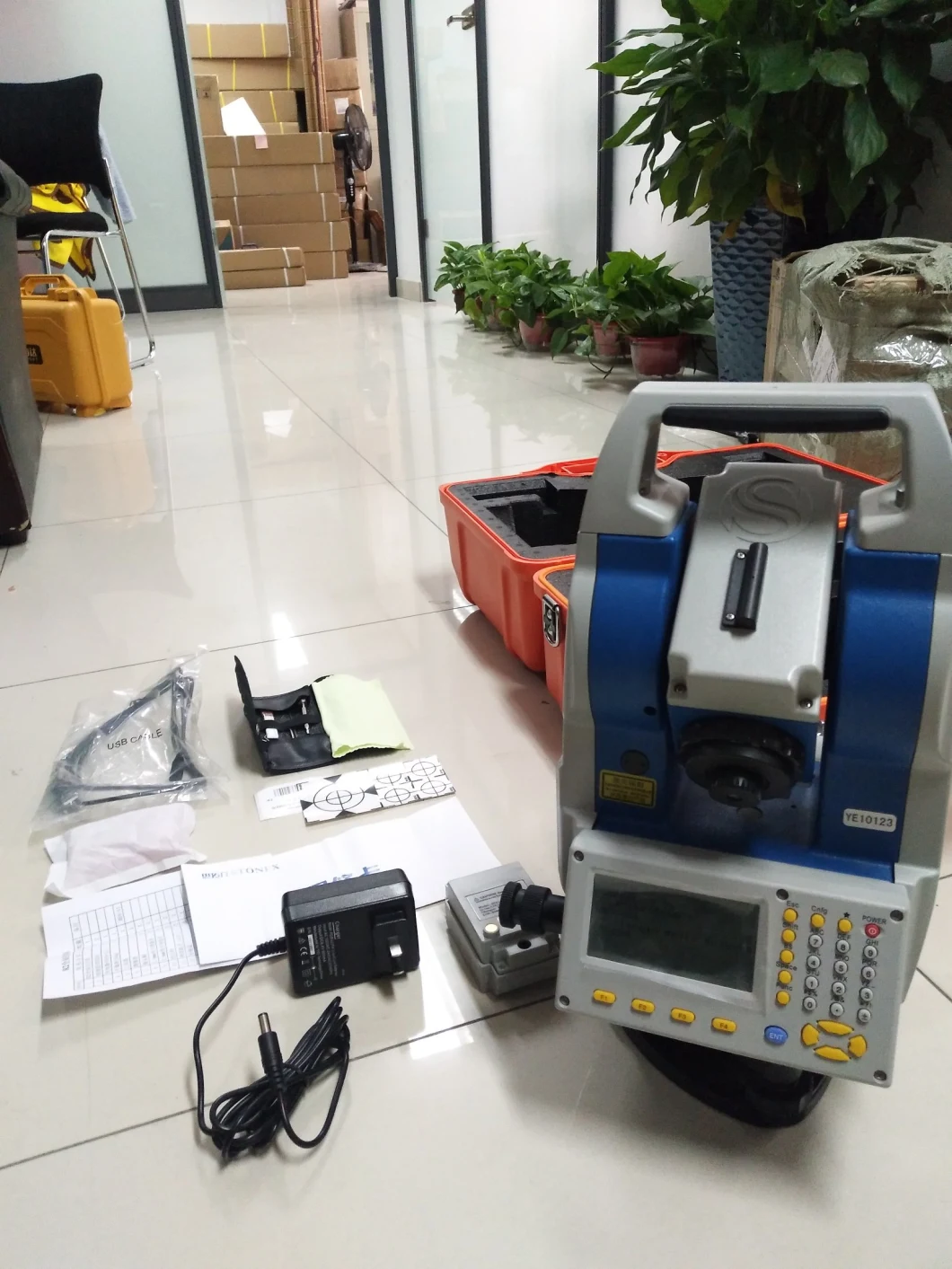 Stonex R2 total station
Product feature:
Excellent optical machine structure
The leading edge of precision machinery and optics is integrated with high integrated circuit design and laser pointing function to achieve high accuracy and stability in R2 ranging.
Automatic biaxial compensation
Fully automatic double shaft compensator can achieve precise leveling and ensure the accuracy of horizontal position. Under the condition of under leveling (compensation range), the high-precision double shaft compensator can also ensure accurate measurement.
32 bit microprocessor
The product uses 32 bit microprocessor, optimizes the interface comprehensively and redesigns the software structure. A large number of shortcut keys are added to the common functions, which are more in line with the user's measurement and use habits.
Multi lattice liquid crystal display
The 240X128 dot matrix LCD display can display 8 lines of English at the same time, showing almost all the measurement information on one screen to avoid frequent page turning. The screen has backlight support to facilitate the mastery of various observations and information in a dark environment.
Temperature pressure sensor
In order to avoid the influence of temperature and air pressure on the measurement results, the temperature and pressure sensors outside the R2 can monitor the changes of them in real time, and automatically make meteorological corrections, adjust the processing results, and effectively improve the measurement accuracy.
The micro movement and the opposite point of the laser
The leading mechanical process ensures the quality of the fretting system and brings comfortable touch feedback. The point design under the laser can be carried out quickly and accurately. Even under unfavorable light conditions, the brightness of the laser can be adjusted and visible.
Multiple modes of communication
It provides a variety of convenient ways of communication. Standard interfaces RS232C, USB and SD cards are all available, and can be customized for Bluetooth wireless communication, one button transmission to achieve rapid data migration.
Large capacity lithium battery
The design of low power circuit is designed, which is equipped with two 4000mAh large capacity lithium batteries, which is enough for R2 to keep working for more than 24 hours in continuous operation. It doesn't bother with battery life anymore.
Technical Parameter
Model

R2

Telescope

Mirror tube length

156mm

imaging

Positive

Effective diameter of objective lens

(EDM)

Ф45mm

Magnification

30X

field

1

°30′

Discrimination (JIS)

3.5

″

Shortest range of visibility

1.0m

Range finder

Ranging light source

(visible lase)650~690nm

Spot diameter

12mm/50mm

ellipse

Laser grade

Class3

Measuring range(good weather condition)

Non-prism

600m

Reflector RP60

1000m

Mini prism

1200m

Single prism

5000m

Precision of distance measurement

Prism

±(2+2×10-6·D)mm

Reflector

,Non-prism

±(3+2×10-6·D)mm

Measurement time

1.0s/0.3s(precision / tracking); initial:2.5s

Minimum reading of distance measurement

Precision measurement mode:1mm




Tracking measurement mode:10mm

Range of temperature setting

-40

ºC~+60ºC

temperature range

1

ºC(automatic correction)

Atmospheric correction

500hPa-1500 hPa

atmospheric pressure

1hPa

(automatic correction)

Prism constant correction

-99.9mm

~ +99.9mm

Long level bubble

Tube type bubble precision

30

″/2mm

Circular bubble precision

8

′/2mm

Graphical electronic level

30

″/2mm;range:3′;Accurancy:1″

Laser counter point device

Light spot size / energy

Adjustable

Laser class

Class2/IEC60825-1

wavelength

635nm

accuracy

±0.8mm/1.5m

Angle measurement

Reading system

Absolute coding system

Minimum reading

1

″/5″

Precision

2

″

Display unit

360

°/400gon/6400mil

Midpoint of optical pair(selection)

accuracy

±0.8mm/1.5m

Imaging

Positive

Magnification

3X

field

4

°

Compensator

Compensator method

Dual axis compensation

Range of compensation

±3′

Display

type

LCD display on both sides




(8 lines and 15 columns of English )

lighting

LCD backlight

Screen resolution

240*128

Power Supply

Battery

4000mAh

lithium battery

working voltage

7.4V

Working time

>24 hours

Charger

FDJ6-Li

Communication and physical parameters

Memory point

Host RAM with 120000 points




Hot plugged SD card

Host weight (with battery)

6KG

volume

184X220X360MM

(WXDXH)

temperature range

-20

ºC~ +50ºC

I/O upload / download

Having the functions of uploading and downloading




dataRS232C/USB/SD

card(Bluetooth customizable)

Waterproof grade

IP54(IEC60529)

sensor

Automatic correction of external temperature




and pressure sensor

Note: good weather conditions (no fog, visibility 30Km);