TOPCON TOTAL STATION GTS1002 New Model with cheap price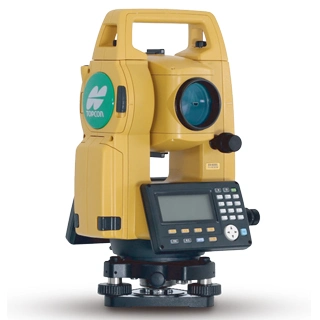 Fast and Powerful Refl ectorless EDM
• Fast and accurate pinpointing with phase shift technology.
• Fast distance measurement of 0.9s regardless of object.
• Minimum refl ectorless measuring distance - just 30cm.
• Improved collimation with super-bright pointer.
• Smaller EDM beam spot size for minimal distance measuring error.
• Dependable measuring even at shallow incidence angles.
• Ensures accurate refl ective sheet distance measurement.
The ultra-narrow EDM beam can precisely measure walls, corners, manholes on the road surface, even chain-
link fences and tree branches.
Advanced Angle Measurement System
• GTS1002N features advanced absolute encoders for long-term reliability in all work conditions. Dual-axis compensation ensures accurate leveling even on rough terrain.
• Motion clamp and tangent screw ensure stable angle measurement.
• GTS1002 features angle measuring accuracy of 2" equipped with groundbreaking technology for extremely reliable angle measurement
Waterproof, Rugged, and Operator Friendly
• IP66 dustproof / waterproof rating.
• Metal chassis and heavy duty handle addruggedness.
• Standard usage temperature range -20° to +60°C.