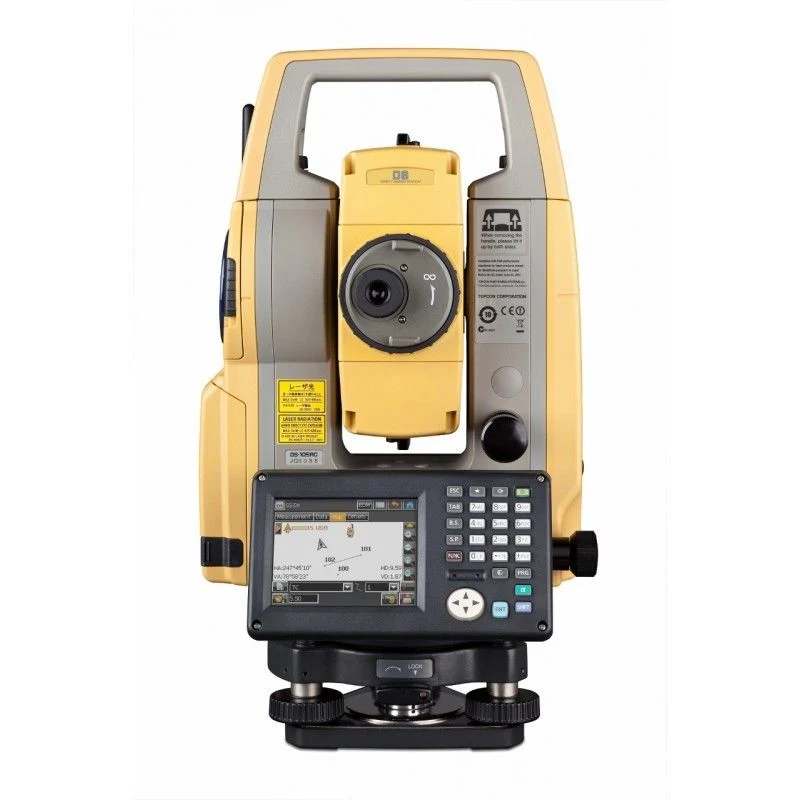 Topcon DS102Demo Unit
Advanced Tracking Technology and New Remote Control System
Fast and Powerful Reflectorless EDM
LongLink™ Data Communication
Advanced Angle Measurement System
Rugged and User-friendly Design
MAGNET™ Field On-Board Application Software
TSshield*
World's first support service only from Topcon
TSshield is a standard feature on all new model Topcon Group total stations. Its advanced communication system provides new opportunities to secure and maintain your instrument.
*This service may not be available in some areas
Advanced Tracking Technology and New Remote Control System*
PowerTrac +RC-5
Advanced tracking algorithms with enhanced ability to predict future prism positions dramatically improves tracking stability.
The revolutionary PowerTrac engine increases power for prism tracking even under extreme conditions of frequent interruptions or strong reflections. Combined with the RC-5, the PS has the most advanced auto tracking available.
*For PS Auto-Tracking models
Fast and Powerful Reflectorless EDM
Fast and accurate pinpoint distance measurement with phase shift technology.
Fast distance measurement of 0.9s regardless of object type.
Minimum reflectorless measurement distance as close as 30cm.
Improved visibility of collimation with super-bright laser pointer.
Smaller EDM beam spot size for maximum distance measuring precision.
Reliable measuring even at shallow incidence angles.
Ensures accurate measurement with reflective sheet.
LongLink™ Data Communication*
The exclusive LongLink™ communication functionality in PS Auto-Tracking models provide operational capabilities never before offered in a robotic total station. With a 600m wireless communication range*, you can now operate the PS instrument from the data collector at the prism pole. Topcon's new LongLink™ technology brings a whole new level of flexibility to your field crew.
*Wireless communication range may vary depending on obstruction and other environmental conditions.
Advanced Angle Measurement System
All PS series Total Stations feature advanced absolute encoders for long-term reliability in all work conditions. Dual-axis compensation ensures accurate leveling even on rough terrain.
PS-101 and PS-102 are equipped with groundbreaking technology for extremely reliable and accurate angle measurement.
Rugged Design
IP65 dustproof/waterproof performance.
Ambient temperature range -20ºC to +50°C.
MAGNET™ Field
Cloud-based Solutions for Precise Positioning
MAGNET™ is a software family that uses the "cloud" for seamless data connection between the field and office, in Real-time, when and where you need, for data exchange, communications, asset tracking and more.
MAGNET™ Field
Powerful on-board software that covers full functions for surveying and engineering tasks. MAGNET™ Field handles data collection, stake out, roads and coordinate geometry.